This month we catchup with Scott Kolbe. Scott is a friend to all in triathlon. His kindness and encouraging nature are contagious. We are so excited to have him on the team! Read more about Scott and his journey in triathlon - we are sure you will leave feeling a sense of his desire for self-improvement through the sport.
1. Please introduce us to your background in endurance sports.
I started running competitively at the age of 14 and ran competitive Cross Country and Track into Junior High & High School. At that same time I was also into BMX and Freestyle bikes. I kept getting injured in High School and finally quit running. I felt a void in my life when I quit running. I kept cycling really up and to the point of starting my work career. Suddenly, everything was shelved for 15 plus years. I had taken for granted at the time running 18 minute 5ks.
About seven years ago, I decided to start hiking and backpacking to get healthy again. Prior to that I gained a bunch of weight (40 lbs) and was no longer in the best health. Actually, my wife Lauren had suggested that I needed to find something to do. Not wanting to do anything generic, my brother-in-law and I decided to do a 16 mile hike up Longs Peak -a Class 3 – 14,000 peak in Colorado. So we started training for that.
A friend once told me when you watch someone race in endurance sports, you either say to yourself, they are crazy, or I want to do that. My wife had a couple friends training for marathons and she wanted to cheer them on at a race. As I watched them I realized I wanted back in.
Additionally, my wife was diagnosed with MS in 2011 and at that time I decided I needed to do something to help fight this disease that I really didn't understand. So at that point I started cycling again on my college road bike and my wife and I started a healthier diet - an anti-inflammatory diet and cutting out most processed foods.
As I started that process I also went to a presentation by Jen McDaniel at a local Tri Club Event. At that event Jen suggested logging your food daily on an app called MyFitnessPal. I downloaded the app, and I have logged every meal for 4 years since that presentation. I haven't missed a day yet. It is really the best way for me to control my food. I have learned food is fuel and not entertainment. What I put into my body highly affects how I feel and perform as an athlete.
During my hiking journey, I started volunteering at Stray Rescue of St. Louis, taking shelter dogs for day hikes. In 2012 at the shelter I met Jen Haskins (Sarah Haskins - Sister-In-Law) a great triathlete that would also take dogs for hikes. I had mentioned that I was always curious about trying the Lake St. Louis Triathlon. I remember hearing about it when I was running as a kid. She said you should sign up and do it. I said I haven't run in years, my road bike hasn't been touched in years and I don't know how to swim. She said she would coach me through it. So in 2012 I signed up for the Lake St. Louis Triathlon really not knowing a whole lot about the sport. But after crossing the line, I was hooked.
2. What made you hire a coach?
My first 70.3 I trained for by myself and really thought I would have a decent experience. One month prior, I would be riding the MS150 (75 miles each day) and I had completed some half marathons. So I figured I would work on the swim portion and everything would be fine… Well my first 70.3 didn't go so well. The water was 56/57 degrees. I cramped up in the water. On race day, I must have looked totally panicked. Sam came up to me prior to the start and encouraged me to stay calm and I had this. During the swim I sat on buoy after buoy. I barely made the swim cutoff; I had to side stroke, I was so cramped. I finished, but felt highly disappointed and thought maybe this sport is not for me - other athletes are so much faster.
I ended up working with another coach for six months, about three months in to that coaching relationship, I started riding with some Evolve athletes who I knew through the Saint Louis Tri Club. They encouraged me and saw potential in me, which frankly I didn't see. I never saw myself standing on a podium or getting faster each year. At that time I decided to reach out to Sam. I was training for Chattanooga 70.3 and was really interested in what Evolve had to offer. She encouraged me to stay on course with my current coach and we could talk after my Chattanooga race. I really appreciated this perspective. But Sam also told me I was a great athlete and that she could help me pull it all together when the time was right. I have to say she was spot on. I will admit I really didn't expect to have the results I am having under Evolve. She also noted that she wanted me to have more fun in this sport and to be healthy – that would be our primary goal. She told me if I got that inline then the speed would come.
3. What does your coach brings to your journey?
I really got a chance to see Sam in action coaching in 2015 (Sam was not my coach at that time). The enthusiasm she had to see me push and improve in the previous six months even though she was not my coach was amazing. At Chattanooga 70.3 I said to my wife, meet Sam she is my new coach. There was absolutely no question in mind that I was going to try Evolve.
While coaching has made me a better athlete, which is why you hire a coach, more importantly, it has actually made me a better person. My wife and I own a marketing firm. A lot of the mental strength I learn from coaching under Sam I apply to the workplace. The hardest part about working with a team is communication and focusing on what you want, not what you don't want. But I also am having a lot of fun. My body is physically more durable and I have the ability to dig a lot deeper at a race than I did before. Did I mention I am having fun!
4. What does being on the Evolve Team offer you?
The team is actually one of the best aspects of Evolve. I love everything Sam does to prepare me for my next big race. The team is the group that encourages me through tough personal challenges, or just checks in on me when mentally I am struggling. And on top of it is just a ton of fun. I find that there is a fine line between mentally healthy and unhealthy in triathlon if you start to lose perspective. Having a team to keep you in check is always helpful. The Evolve athletes are some of the hardest working people in triathlon. Their dedication inspires me each and every morning.
5. What are some of your most memorable coached race(s)?
Try Tri has been my favorite race. Probably because it was the first race where I had taken what I had learned and everything I had worked on through Evolve and went from being a middle of the pack to a podium spot with a solid performance overall. This was the first race where I thought to myself: that race could not have gone any better; I left nothing out there.
Chattanooga 70.3 – 2016 has to be top of the list as well. Sam's enthusiasm for my performance was simply awesome. The race was tougher in 2016 than 2015 due to wind and heat. But a 30 minute PR in a 70.3 in just a year felt awesome. Open water swimming has always been a struggle for me. At this race, it was something that just felt natural now. In fact I swam 7 minutes faster than the previous year and loved every moment.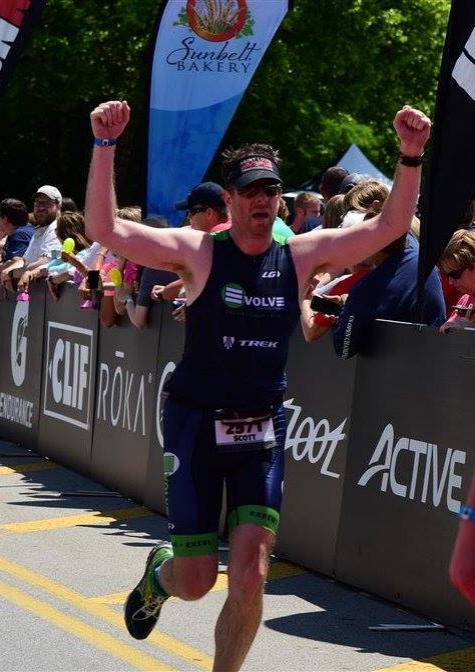 6. What has triathlon taught you?
At my first triathlon, I thought I was prepared. I knew I would struggle with the swim, but I thought, well I am a decent runner and cyclist. What I have found is that in triathlon it takes discipline, dedication, and time to improve. But the people you thought you couldn't compete with, eventually if you stick with it with great guidance. You will get there. Triathlon is a complex sport that takes a lot mentally and physically. But it can be really rewarding. You will make some amazing friends along the way. But you learn a lot about yourself.
At Evolve all of the coaches work hard to create a training life balance. We believe that endurance sports should enhance life outside of training and racing. We also feel that triathlon has so many crossovers and important lessons. Scott is an athlete who embraces this - his joy translates into his stellar results!