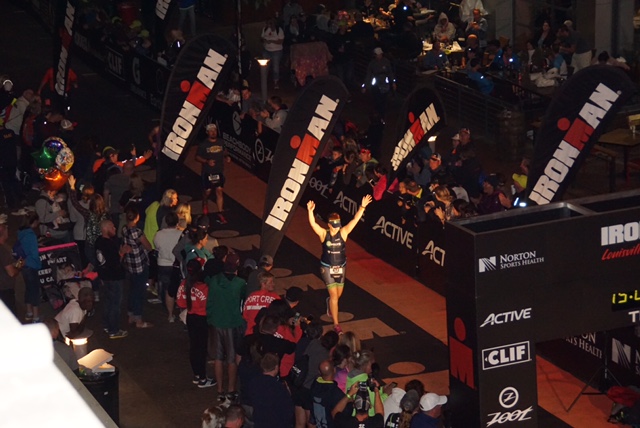 When I set out to create Evolve, I really had one intention – make athletes faster. I wanted to create a coaching group where I would provide athletes workouts, support, feedback and accountability. I wanted to fill what I saw as a gap that needed to be filled in the triathlon community. There were so many people who I knew, who I had watched train, or even trained with on occasion and who were working very hard day in and day out and not getting the results that they deserved. This was a semi easy fix – if we based all of our workouts in scientific principles of endurance training, added to that nutritional knowledge again based on best practices for all athletes, and then built that all on a foundation of accountability and support, I knew we would indeed have a winning formula. This was at least my initial intention, but it became clear early on, that I had a much larger desire to provide the athletes with a community; a community that could offer levels of support and encouragement that I could not match as just one coach who just wrote workouts. I wanted to build a team– a group of athletes who shared the same ideals and came from all different backgrounds. A team where no matter your pace or years in the sport you would be willing to learn and grow as an athlete and share your love for endurance sports with others. I say this often, I am very proud of the results that have been produced by the athletes on the team, but more than anything I am beyond proud of the team that has come together and supports one another in ways that I could only have dreamed of at the inception of Evolve.
Coupled with this belief that community is what is needed to create the strongest group of athletes on the road, is my belief that sport can also, if needed, and if applied correctly be therapeutic. I certainly sought out triathlon as a way to grow as a person, deal with stresses and losses in my life and to help me become a better version of me. I believe that I am not alone in this quest and I have seen this time and time again in my coaching. Which brings me to the subject of today's blog – which is really a story about the power of triathlon and the way in which I know this sport can provide so much more than cardiovascular benefits.
For the last few years I have had the pleasure of working with Jamie Stewart. Jamie is one of the hardest working women that I know. However, Jamie's journey to triathlon was not an easy one. Jamie has written extensively about her background in her memoirs, but here is the quick version, Jamie is over six years sober after using heroine.. She is a single mother to a sweet little boy named Kingston. Jamie traded in a life that nearly took her own for one that focused on taking care of herself and seeking an outlet for her past struggles. Jamie capped off last year when she crossed her first (of many) finish lines at Ironman Louisville. In Jamie's own words, "I am a recovering heroin addict and when I was a teenager I got arrested for selling drugs. It took more than that arrest to learn, but after prison, jail, and rehab I eventually got it. After having my son, Kingston, was when I really turned my life around. That was when I got into running marathons and eventually ventured into the sport of triathlon."
Enter Corey Bell. Corey joined team Evolve over two years ago. Corey's journey to triathlon differs wildly from Jamie's, but perhaps shares the desire to not be saddled by one's past and in many ways these two athletes have more in common than not. They are both driven by a strong work ethic, a kind heart, a deep love for their families, along with a desire to push themselves to be their best.
When I originally approached Corey about this blog and asked him about his military service, he fired back and email to me that read: In my bios I always try to keep things more about where I am today, not where I have been. In other words I always try to keep my military and civilian lives separated, mainly because my view is that what I do today is what defines me and I am not a fan of people always telling me I should use my military experience to help me in business today (Disabled veteran type stuff) which as you know is not me at all.
It was very clear that Corey, who is a veteran of 17 years and who was wounded in action, did not want to be defined by his past. It is also clear the more I work with him, that much like Jamie, he has used triathlon as a way to focus on creating a better version of himself day in and day out.
Corey came to triathlon after being told he would never walk again, and like Jamie had been given a second chance. "After 9/11 I was serving my third tour of active duty deployment in two prior in Operation Enduring Freedom in Afghanistan, and the third being part of Operation Iraqi Freedom in Iraq. While in Fallujah I was wounded in the right leg while aiding another soldier . When the event happened fear and hope got me to somehow get out of the middle of the road I was laying in and into a nearby building. The next thing I remember was being loaded into a medivac now not able to hear anything out of my right ear and feeling tingling sensation on my upper body and face. Three days later I woke in a hospital with my father by my side telling me that I was safe and that I may never walk again. Those words alone are what pushed me into my process of PT with a hunger to go back, which meant walking on my own power and under my own terms."
While their stories are moving enough on their own, it is the intersection of their stories that is perhaps the most inspiring and truly indicative of how triathlon is just so much more (to borrow a phrase) than sport.
Again to quote Jamie, "I am now 28 and I have been clean for just shy of 6 1/2 years. I have worked hard to get to where I am at today, but unfortunately having felony convictions has gotten in the way. I've been working at Burger King for 11 years off and on. I have been offered jobs just to be denied when the background check comes through. Even though it was ten years ago, it is still there."
Jamie's struggle to remove herself from her past mistakes has been continually blighted by her criminal record and all that she needed was a chance, and Corey offered her this chance.
Corey has successfully built a company upon his return to civilian life. Corey is General Manager of Building Point Mid-America and as the GM of a rapidly growing company he was in need of help at their home office in Saint Louis. I am beyond proud to announce that as of last week Jamie is now the office manager of Building Point Mid- America. As Corey put it, "Athletes are always my preferred people to team with because they understand the importance of working relentlessly towards a goal".
And in Jamie's words, "I finally feel like I have a career path. All thanks to Corey Bell for believing in me and seeing my potential."
I have always been certain that we are brought to train and race for much larger reasons than just times on a clock, and the story of how Corey helped to open a door for Jamie is just one of the many amazing journeys that triathlon has brought about.